Challenge

A global pharmaceutical company has been a leader in the industry, revolutionizing a key area of treatment for patients for nearly a decade, but the traditional ways the company's employees worked were outdated – a fact reflected in operational margins below industry peers.
When the company set out to transform, its objectives were to:
Increase competitiveness especially around speed
Reset expense base to create strategic headroom
Ensure long-term sustainability
Solution
The company retained Gagen MacDonald to apply our unique approach focused on the human side of change, building employee belief around why transformation is good for the company and good for them.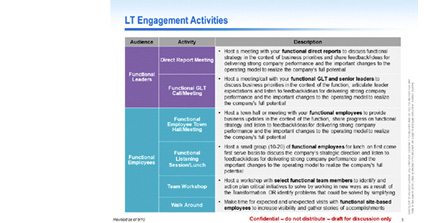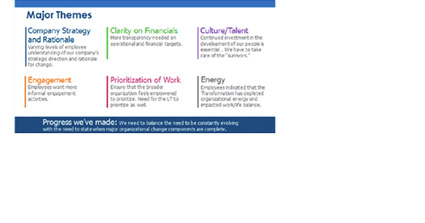 Equip Leaders
ACTIONS
Created private, online leadership portal exclusively for the company's global top 200 leaders
Designed CEO and C-Suite engagement plans to create a more regular cadence for communications and collect feedback
Equipped leaders with tools, resources, training and coaching to enhance leadership skills needed to drive enterprise-wide change
RESULTS
C-suite conducted more than 100 listening sessions with top 200 leaders in 12 months; subsequently, these leaders held more than 100 listening sessions with their teams.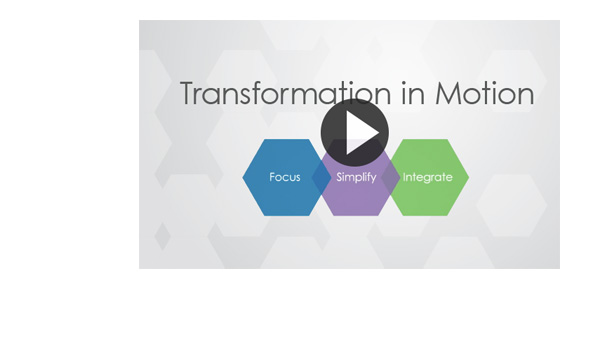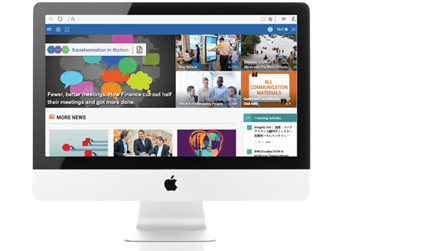 Engage Employees
ACTIONS
Developed strategy and approach to drive culture change through organization-wide adoption of working in new ways, with sponsorship and involvement from the Chief Executive Officer, Executive Leadership Team and Transformation Management Office
Engaged C-Suite and global top 200 leaders as ambassadors to lead culture change with meeting-in-a-box materials and tools
Sourced and leveraged employee stories of how individuals and teams are working in new ways and achieving strong business results
Shared employee stories via iPhone videos, podcasts, and articles
Developed change management tips and tools to help others implement new ways of working in their teams
Created visual campaign on "transformation in motion" to reinforce new behaviors
RESULTS
95% of employees are willing to embrace new ways of working if it will help the leading global biopharmaceutical company compete more effectively
On average 1,800 views per every story published with a high of 3,100 views on a single story, significantly higher than the company's average views per story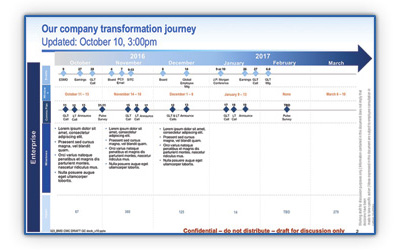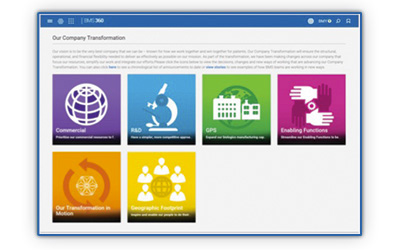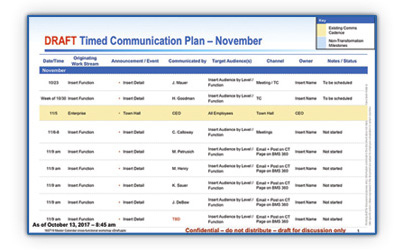 Drive Organizational Alignment
ACTIONS
Designed and facilitated cross-functional alignment approach resulting in improved message integration
Introduced six-month view and reviewed regularly with Transformation Management Office
Designed cross-functional table read and peer review to drive alignment of message and overall quality
Developed cadence for pre-communications with C-Suite, global top 200 leaders and impacted employees
Created transformation intranet site to publish and archive announcements by function
RESULTS
Published 140 announcements to date with 1,500+ views on each announcement article
92% of employees understand the transformation
Results
Senior leadership's commitment to the strategic plan and innovative usage of multi-media, digital, and social tools have led to outstanding results, including:
Keeping operating expenses flat
Increased investment in R&D
Reduction in medication development time
Simplification of work processes and systems
The enterprise-wide transformation also has been honored with multiple awards, including an IABC Gold Quill Business Issue Award, three 2018 IABC Gold Quill Awards of Excellence and three 2018 BTOES Awards.
/ Apr 16, 2018
Bristol-Myers Squibb and DuPont win six prestigious Gold Quill Awards
Next Post