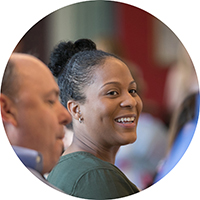 Like all of our clients, Gagen MacDonald is striving to evolve our own culture of inclusion. This is critical work in our own journey toward racial equity. While diversity & inclusion have been organizational values stretching back to our founding, our understanding of these concepts' meanings continues to deepen and evolve.
Two years ago, this journey took on new life with the formation of a Diversity, Equity & Inclusion Council, the first group within our firm ever specifically tasked with enhancing inclusiveness within our culture. During the time that has followed, the council's work has expanded and elevated significantly in accordance with broader events in society. We asked Barbara Hunt, our Assistant Controller and our DE&I Council's leader, to share more about the work that's gone into making Gagen MacDonald a more racially equitable place to work. Here's the journey she described.
The impetus for our journey
In 2019, we conducted a survey to better gain insight into our employees' experiences working at Gagen MacDonald. That survey covered a broad range of topics, including diversity. When we got the results, one clear finding was that we had a ways to go when it came to making Gagen MacDonald a truly inclusive and equitable place to work. In particular, we heard that Black employees didn't feel good about the fact that when they looked around, they saw too few people like themselves. Our leadership team realized we needed a formal plan to act, and quickly formed a Diversity & Inclusion council consisting of a cross-section of employees from across the firm.
The council's early actions
The first thing we did as a council was engage the help of an outside expert, Allison Manswell from Path Forward Consulting. Allison has years of experience and deep expertise as a facilitator and counsellor for companies looking to foster inclusion, and her book, Listen In: Crucial Conversations about Race in the Workplace, resonated with our council members.
Allison's recommendation was that we needed to start by building awareness of the role that racism and bias play in the workplace. So, as a first broader action, we dedicated a significant portion of our firm's annual retreat at the end of 2019 to unconscious bias training and a discussion of racial inequality in the workplace. The conversation was eye-opening for everyone. Parts of it were hard, and there were tense moments. But by talking about race openly for the first time, we built a critical foundation.
Evolving our approach in the wake of George Floyd's murder
While George Floyd's murder sadly resembled so many other Black lives lost due to excessive police violence, the wave of national and then global outrage and protest it inspired was clearly different. We knew that this was the point where we needed to go from building awareness to taking action. Thankfully, because of the foundation we had established in 2019, it was less a starting point than an inflection point. We could be proactive rather than reactive.
As a firm, we always tell our clients that to change their culture, you have to give people a new experience. We designed an experience to really change how we approach race at Gagen MacDonald. For years, our approach has been to help people "fit in" to the organization. Now, we wanted to transform Gagen MacDonald to fit all people. That's been the basis of our journey toward racial equity. For me, I felt like this was only possible if we could educate the firm on the importance for Black employees of having our histories acknowledged and our life experiences valued.
We did this by convening two series of conversations: first around the book, White Fragility, and then around the documentary series, America to Me. For five consecutive weeks (six with White Fragility), we would convene as a firm and then break into small groups for guided discussion. In each "breakout room," members of our DE&I council worked with groups of 4-5 people through a series of questions we had developed together. Our goal was to explore racial identity development, for both white employees and employees of color, and to give everyone an opportunity to reflect on their own process of racial identity development.
We also think it's important be transparent and part of broader change in our industry, which is why we chose to join the Diversity Action Alliance's pledge to submit our diversity metrics on an ongoing basis.
What we've found successful
For us, our journey to becoming anti-racist started with a willingness to acknowledge systemic racism's prevalence in society. When we began hosting our conversations, our attempts to discuss race were often met with a silence, fear and discomfort. In my view, these are themselves forms of racism.
From our initial unconscious bias training to our conversations about White Fragility and America to Me, we've seen a significant change in people's willingness to engage in difficult or uncomfortable topics. On a personal level, I lost my oldest nephew to gun violence in 2019. At the time, I heard from only a few colleagues. I know it was mostly due to fear and not wanting to have an uncomfortable conversation. Today, people at the firm frequently call, text, and email to check in, especially when events that affect Black people make the news. It's been a huge shift.
Results to date
When we formed our DE&I council, we had three goals in mind. First, we wanted to increase the number of racially and ethnically diverse Gagen MacDonald employees. Second, achieve buy-in and commitment to authentic action from all Gagen MacDonald employees. Third, increase overall and diverse employee retention.
On our first goal, we've made significant progress in just the last six months as we've brought in several very talented Black colleagues. On our second goal, anecdotally, we've definitely seen a major change in terms of buy-in and commitment. On our third goal, it's still too early to tell. But I believe strongly that we need to continue this journey if we want to retain people long-term.
Our path forward
Today, I think Gagen employees are more comfortable interrupting bias and offensive behavior, and better at being an ally. I think we're on the right path to promoting equity and increasing opportunities.
In terms of where we go from here, we need to continue to be focused on building a culture of inclusiveness that is ingrained into our everyday ways of working, not just when we are having dedicated conversations on race. This will mean being deliberate in acknowledging the lives we as Black people live and valuing us for who we are. Being intentional about inclusivity is especially important as we deal with the pandemic and our remote work setup. I'm optimistic we can continue our progress.