CHICAGO, IL (April 6, 2016) – Strategy execution firms Gagen MacDonald and Positive Eye Consulting announced today that, effectively immediately, Positive Eye will join Gagen MacDonald and integrate its business into the firm.
"As industry pioneers, we've continually strengthened our convergence capability to help leaders accelerate change, engage in new ways, and operate holistically outside of traditional functional boundaries," said Maril MacDonald, CEO and Founder, Gagen MacDonald. "The Positive Eye team's deep experience in organizational effectiveness, financial acumen, systems and behavioral change will bring added capability as we counsel and support C-Suite leaders in communications, business transformation, employee engagement, leadership and culture change."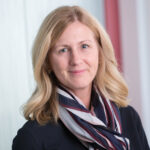 Positive Eye CEO and Founder Jean Meeks-Koch joins the Gagen MacDonald leadership team, reporting to President Sherry Scott. In addition to consulting, Meeks-Koch's professional experience includes roles as chief financial officer at a major university, head of a commercial construction company, and professor at four major universities. She holds an M.S in accounting and a PhD in organizational systems and behavior. Her doctoral research resulted in the development of a transformational, large-system model to accelerate change.
"Our merger into Gagen MacDonald is a great milestone as we help our clients to achieve large-scale change in a humanistic way," Meeks-Koch said. "Together, we can pull all the levers critical to aligning strategy, structure and culture."
About Gagen MacDonald
Gagen MacDonald is a strategy execution firm specializing in employee engagement, culture change and leadership. Working collaboratively from the corporate office to the front line, Gagen uses an organization's brand, culture, vision and history to motivate and align employees to transform companies, accomplish business objectives and drive reputation from the inside-out. As a pioneer in organizational change, Gagen has helped some of the world's biggest brands including Coca-Cola, DuPont, GE, Johnson & Johnson, Phillips 66 and Walgreens Boots Alliance.
For more information:
Contact: Meg Wheaton Email:
m.wheaton@gagenmac.com
Phone: +1 (312) 952-2136
/ Mar 23, 2016
Gagen MacDonald's Story Activation Summit
Previous Post
/ Apr 15, 2016
5 Tips for Killer Visuals: Storytelling's Silent Partner
Next Post