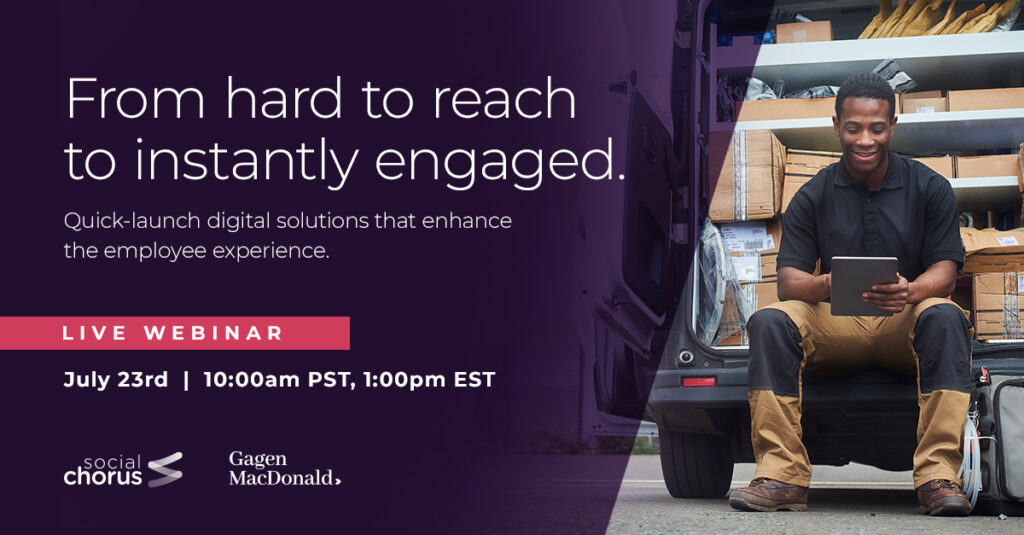 The global pandemic has highlighted how critical digital tools, technologies and communication is on the employee experience. And difficult to reach employees have become a key communication priority.
Join SocialChorus, the leading workforce communications platform, and employee experience pioneers Gagen MacDonald, as they discuss how the right digital tools and accompanying communications can fuel engagement, drive culture and enhance reputation with your entire employee population. In this webinar you will learn how you can:
Rapidly stand up a digital platform to reach ALL employees, including remote, field and manufacturing
Get employees more of the information they want and need
Create the business case to get the budget you need and C-Suite support and alignment
Effectively launch, drive adoption and change employee behavior
Shape a more durable culture for the duration of the global pandemic and beyond
Presenters:
Nicole Alvinoguides SocialChorus' strategic growth as the Co-Founder and Chief Strategy Officer. She works with leaders across the Fortune 500 to help them digitally transform the employee experience.
Molly Rauzi is a CIO and technology executive who leads business and technology transformations for Gagen's global, complex Fortune 500 clients.
Alexis Bogdan leads design and creative activation for Gagen and specializes in driving adoption and engagement with employee-focused digital platforms for our clients.
Who Should Attend? Leaders in the following roles: IT, Enterprise Application, Communications, Human Resources, Transformation
/ Jun 17, 2020
Strengths and Weaknesses Revealed by the Pandemic
Previous Post
/ Sep 09, 2020
Webinar: Leadership in the Digital Era: Shaping the Employee Experience with an Intranet
Next Post