The following insights are from an article by our founder and CEO, Maril Gagen MacDonald, that was originally published on the Arthur W. Page "Page Turner" blog.
It's amazing how much management philosophy can change over just the course of a generation. With the exception of a few notable companies, 20 years ago corporate culture was an afterthought. While most executives focused on priorities such as strategy, finances, and operations—not-so-coincidentally, the subjects taught in business school—culture was a secondary concern relegated to HR (if anyone tended to it at all). It languished or grew in unruly ways. Either way, performance suffered and few understood why.
My, how things have changed!
Today, culture ranks as a top concern for CEOs and other corporate executives, and is increasingly seen as the pendulum on which results swing. To know how much executive mental real estate culture now occupies, look no further than recent covers of Harvard Business Review. Needless to say, it's top of mind: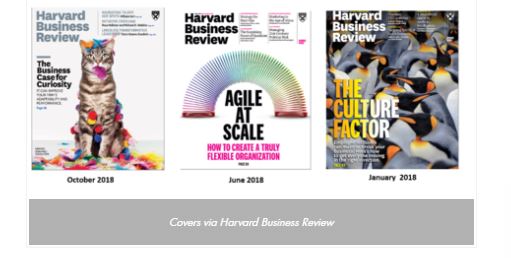 According to a recent survey of 2,000 individuals done by the Katzenbach Center at PwC, 80 percent of executives and employees believe their organizations' cultures need to evolve over the next three to five years. That's a 29-point increase over the course of just five years.
In this era of disruption, the expanding focus on culture owes to many factors, especially:
Shorter shelf life of strategies
Imperative to drive innovation
Need to empower employees closest to the customer
Complexity of workforce demographics
Risk that internal issues becomes reputational crises
With each passing year, executives' responsibilities will tilt more towards stimulating critical thinking, illustrating organizational purpose and vision, and facilitating their companies' ability to work quickly and nimbly while simultaneously achieving high quality. As this tide accelerates, the CCO must actively assert leadership in driving culture change.
While culture has no clear "owner" in most organizations today—and likely won't going forward—given its importance to our CEOs and the general health of our enterprises, every CCO must operate with a strong understanding of how culture functions within large organizations and what they can do to shape and lead it from their perch. This is why culture is one of our Page Thought Leadership work streams, and why it will be a major focal point at our upcoming Spring Seminar.
Over the next few weeks, I'm going to publish two additional blog posts relating to culture: The first will introduce a framework for how a CCO can effectively lead culture change within their enterprise, and the second will feature a practical step-by-step process for driving culture change. These are concepts that we are testing as inputs for our upcoming Page white paper.
As you read these, I encourage you to please share your thoughts and reactions:
Do these principles and steps resonate?
Are they the appropriate level of depth?
Are there key concepts missing or a point of view that contradicts your experience?
What can we add to make these most useful for you and your teams?
The more our thinking is challenged or affirmed, the stronger our end product will eventually be; so please do offer your perspective. In addition, at the Spring Seminar, Molly Rauzi and Umayma Abubakar, the chairs of the Page Up thought leadership committee, will be facilitating an optional group dialogue regarding culture. If this is a topic you are interested in learning more about from others as well as sharing your own viewpoint, I encourage you to attend.
This is an exciting and important subject for Page and I am eager to hear from you!
/ Mar 20, 2019
Harnessing "new power": How communicators can serve as connectors to drive business transformation
Previous Post
/ Apr 08, 2019
How the CCO drives culture
Next Post