At Gagen MacDonald we're avid learners and perpetually curious by nature. It's one of the attributes of our culture we're particularly proud of. When you consider how rapidly business and society is evolving around us, staying curious ensures we have our finger on the pulse. One aspect of that learning is attending key conferences and events across the year. Not only are we able to see great presentations but we get to have live conversations and debates with clients, partners, vendors and thought leaders. Our colleague Kristy Lapidus, who leads our growing Digital Workplace offering, recently went to sunny San Diego to attend Gartner's Digital Workplace Summit where the themes ranged from Infrastructure and Operations to Adoption and Collaboration to Connected Digital Employee Experiences and Executing a Digital Workplace Strategy. We caught up with Kristy after a very intense couple of days wandering the conference halls.
HB: Kristy, welcome back. From your emails and LinkedIn posts it sounds like you had a fantastic conference. Can you give us some background on the conference itself?
KL: Well it's hard to beat San Diego as a conference venue. This year is the fifth year, I believe, that Gartner has been running a conference around the topic of digital workplaces. It began in Europe and Gartner brought it over to the US just before the pandemic. This is the first year we get to go back in-person which is always such a richer experience with different energy. Gartner did a great job last year delivering this virtually, but you really can't compare the networking of a live event. And did I mention San Diego? What a great location.
HB: The entire conversation around the Digital Workplace has exploded over the last few years with the pandemic obviously playing an enormous role in that. Who was at the Summit and what were the conversations going on?
KL: Absolutely. We're certainly in the thick of it here at Gagen MacDonald. It feels like each week our clients are coming to us seeking direction and counsel on how they can create an optimal digital environment for their people to not only work efficiently but also to connect with one another and their organization's culture. What's notable – and I certainly heard this in several conversations that I had – is that many organizations are fundamentally re-evaluating the digital workplace infrastructure they put in place during the pandemic.
Several people I spoke with talked about how, in those early frantic days of the pandemic, their organizations quickly built out a Digital Workplace centered on intranets and similar digital environments. Many bolstered their intranets by buying and deploying tools like Teams, Zoom and/or Slack so their folks could collaborate and communicate with relative ease. With the urgency to move quickly as shutdowns loomed, standard processes such as requirements gathering and concerted change management procedures could not be followed. Those quick-turn solutions were absolutely critical to keep businesses running during the pandemic but, as the pandemic challenges have eased, many organizations are looking at their digital infrastructure and asking is this what we need for the next evolution of our organization and our workforce? Are we using the systems we implemented to the best of their capability? Have we allowed duplicative systems to accumulate? Further, the debate around remote, hybrid, deskless and return-to-office is inevitably creating a more complicated and complex set of scenarios for organizations to consider. Naturally that's leading to a deeper evaluation of their current Digital Workplace solutions and where they now need to flex and evolve.
Not surprising, particularly for a Gartner event, there was a strong participation from folks like Asana, Lucid, Mural – who was actually the most prominent exhibitor, Unily, FirstUp, Slack, AWS, VMware among others. If I'm not mistaken there were around fifty or so exhibitors which made for a lot of interesting conversations and presentations.
HB: That's fascinating, this re-evaluation of the Digital Workplace in a post-pandemic world makes complete sense. What were presenters and exhibitors focusing on at the Summit?
KL: The majority of exhibitors were technology solution providers so naturally there was a number of conversations around new expanded features and functionality. Several of those were quite interesting but I was most thrilled by a sneak-peak I got from Simpplr that highlighted how they're bringing AI into their solution set in some very elegant ways. I thought that was very intriguing, necessary and timely, considering the generative AI feature set that Microsoft will release in the fall with Microsoft 365 Copilot.
A lot of attendees were talking about people-centricity, or digital employee experience, which was great as that's an orientation that we very much focus on here at Gagen MacDonald. Coming from our legacy in culture and change management we're naturally obsessive about the humans inside an organization, and not losing sight of them regardless of the technology solution. At the Summit, the concept of human-centricity seemed more centered on the design of the software, more focused on the UX side of the equation. As such, the focus was more on driving user (or employee) adoption of technology, which is perfectly understandable. Yet, as I was reflecting on several of the conversations I had and the presentations I saw, there was definitely a theme around driving usage and adoption in a very literal sense while the broader themes of how a Digital Workplace can contribute to enterprise-wide opportunities like culture building and business transformation, themes that Gagen also consults on, were not as frequent.
It was also interesting to hear several attendees talk about the internal debates they were having about the value of investing in a Digital Workplace. For some there remained an internal educational or learning gap to fill. For others, it was about the need to build a strong business case for investing in solutions in a way that improves the employee experience. I found that interesting given the data out there about the positive impact of the employee experience on the customer experience. In fact, at the Summit, Gartner quoted a Forbes Insights study that indicates that 70% of executives agree that a better employee experience directly leads to a better customer experience. Further, according to the May 2023 Microsoft Work Trends Index Report, the most engaged organizations outperformed the S&P index, while the least engaged lagged behind it. For those leaders out there who aren't ready to invest in the employee experience, take note, not doing so will very likely negatively impact your bottom line.
Other attendees, as I mentioned earlier, were still struggling with foundational challenges like meeting the diverse needs of a hybrid and a deskless workforce scattered across the globe. That spectrum in the Digital Workplace maturity of the organizations attending was noteworthy in that it highlighted how far some organizations have come in this journey and how others are just starting to embark on it.
HB: I'm not surprised by that spectrum of maturity; as it is something you and I have been discussing at length ourselves. Switching gears, Gartner always does a great job introducing new research findings or sharing ideas that are a little further out. What did the Gartner team share at this Summit?
KL: You're right, Gartner is excellent at projecting out from the current conversation and predicting where the topic or category is going. One thing Gartner was big on seeding with the audience this time was this idea of "change today to change tomorrow" which was kinda positioned as a rallying cry for the Summit. I rather liked the sentiment because it's an acknowledgement that change is a constant for all of us in today's world. Helping employees move through change is something Gagen has been pioneering for almost 25 years – and it's something that all organizations need to do – to equip their people and their organizations to be adaptable in this volatile, uncertain, complex, and ambiguous environment.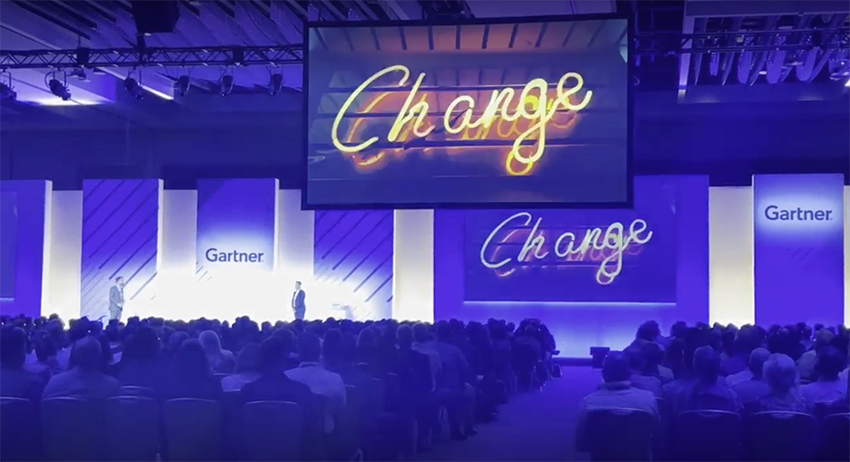 In several keynotes they also discussed the idea of "digital dexterity" which is a term they've been using for several years now. Essentially the need to ensure your workforce is digitally adept and flexible – or dexterous – which will impact an organization at multiple levels. How and who they hire. How they ensure their people are constantly learning and evolving their digital acumen. How organizations partner with other organizations who are equally digitally dexterous. Those are the business decisions and investments that sit above the technology solution an organization goes out and buys so it was great to hear Gartner continue to reinforce that. I also appreciated how, at a conference filled with technology sellers and buyers, Gartner brought the conversation back to the humans, the people inside organizations – the people who make it run and bring it to life.

HB: Certainly sounds like a fascinating few days. Last question. Anything that particularly got you excited or that surprised you at the Summit?
KL: Considering how much the world seems to be talking about AI at every turn, there was relatively little AI discussion in many of the vendor presentations. Of course, Gartner did a bold predictions piece and AI featured heavily in that and was sprinkled throughout their other presentations, but I was expecting every conversation to be AI-focused. So, I was disappointed that more vendors weren't sharing their generative AI roadmaps. Almost every vendor there will have to compete with Microsoft 365 Copilot when it is released this fall. If you haven't heard about Microsoft 365 Copilot, get ready for a game changer. Copilot will be a companion in every Microsoft desktop application – Word, Excel, PowerPoint, SharePoint Outlook, Power BI, etc - bringing in information from across your organization and your stored files in a way that has the potential to significantly optimize, automate and refresh daily operations without the need for any code, software developers or new systems.
On the same note, I did have an exciting and lively conversation about conversational UX. In short, conversational UX is basically a generative AI chatbot embedded in a software system that allows users to interact with the system through conversations – rather than manual clicks and data entry - greatly reducing the time and laborious steps needed to get work done. For example, imagine you want to publish a new article about employee onboarding on your intranet. You'll be able to go to your intranet, write up brief summary of the focus of the proposed article, tell your intranet what internal documents to pull in specific details from, specify tone, specify length, etc., all through a friendly user interface (vs a blank, tiny field like you must use in Chat GPT today). But like ChatGPT, the UX chatbot remembers its previous responses and can refine its subsequent answers based on your feedback. I saw an early beta test and was satisfied by how fast the iterative changes were coming back and how quickly those responses were getting better, cleaner, sharper – all within the intranet's user interface.
HB: Wow, that does sound impressive. Appreciate you taking the time to debrief us on the Gartner Digital Workplace Summit. It's great to have you back.
KL: My pleasure. I'll certainly be planning on attending in March 2024 when the Summit moves to Texas. I can't say I won't miss San Diego and the ocean, but this was an excellent conference all around.
/ Jun 14, 2023
CEO Interview: The leadership journey to build a member-centric culture at Lucet
Previous Post
/ Jul 15, 2023
Successful sustainability strategy takes true culture change
Next Post