The following insights are from an article by our founder and CEO, Maril Gagen MacDonald. Join the conversation now on LinkedIn.
As anyone from soybean farmers to Facebook and Qualcomm executives can attest, in 12 months, business circumstances can change in radical ways. As we close out this volatile year and head into 2019, I have no doubt that disruptive forces will only gain steam.
Looking ahead to the new year, I'd like to flag three trends that are going to require increased corporate leadership attention.
1. Shifting balance of power toward employees
. From the depths of the recession a decade ago, it's amazing to see how much power in the economy has tilted to employees' hands. This shift is happening primarily on two fronts: macroeconomic and technological. On the macroeconomic front, low unemployment has reduced the available supply of talent, the need for specialized skills has created labor shortages in areas ranging from construction to technology, and baby boomer retirements have intensified recruiting pushes and succession planning: these have all given employees huge leverage in the marketplace. Similarly, over the last decade, digital and social technologies have continued to give employees greater power to own and shepherd their companies' reputations. As we've seen many times, merely an employee tweet or blog post can catch fire and send an entire organization in to disarray.Today, we see employees exercising their muscle in newly assertive ways. At Amazon, where stock grants are commonly used as an incentive to attract and retain top talent, we see employees are now using their shareholder status to pressure the company to reduce their carbon footprint.
As this recent New York Times article points out
, Google employees exercised similar power earlier this year in joining a shareholder petition to link executive pay to diversity and inclusion goals.Even outside of the tech industry, in 2018, we saw countless examples of employees' ability—and willingness—to pressure employers to take stands on social issues or make significant changes to key policies. Even with the prospect of an economic slowdown, employee power (especially among highly-skilled employees) will not wane but strengthen in 2019. Companies must continue to become more thoughtful and strategic in preparing to address employee activism.
2. Deepening change fatigue.
Pick up any publication or go to any conference these days and you will be inundated with the steep challenges facing large companies. For instance, to cite just one data point, according to
Innosight
, over the next 10 years, about half of the S&P 500 will be replaced.Confronting this blistering pace of disruption, companies are heaping changes onto their organizations in order to transform their businesses and outpace competition. According to a
2016 KPMG study
, executives say that 96 percent of their organizations are currently planning or executing a business transformation.The problem is, people are already exhausted. This past summer, we surveyed change management and business transformation leaders. They told us that not only is navigating change fatigue their most common frustration today, but it is the biggest challenge they anticipate encountering over the next five years.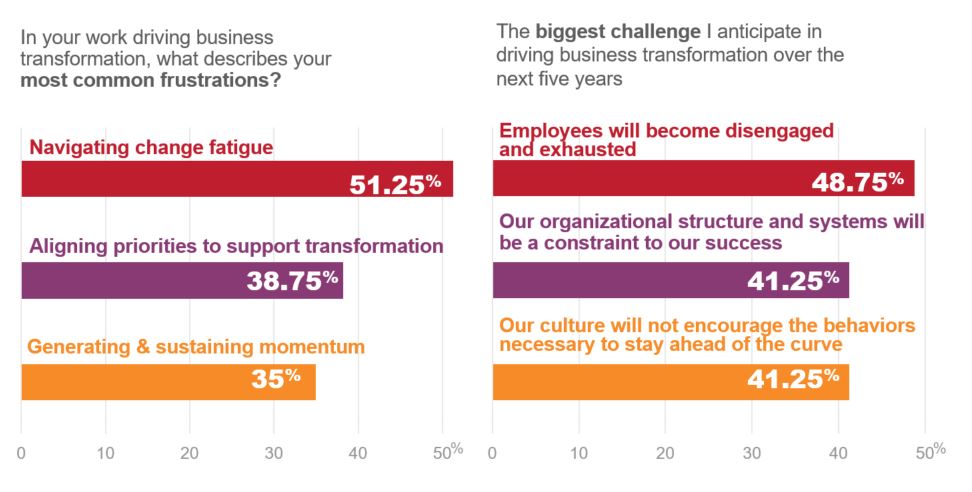 Change will not slow down in 2019 (or beyond), so we have to build the capacity and capability to transform without burnout.
3. Eroding trust and truth uncertainty.
As companies are increasingly caught in the crosshairs of fake news, the implications of disinformation are bound to become internal. Ultimately, employees are people, and we know that people are confused as to where to find truth and who can be trusted. This is a problem that can only be addressed proactively: if you do not establish trustworthy and credible sources of information for your employees before they're necessary, you'll never establish them once they're needed.More than anything, this requires a commitment to transparency and trust. To earn trust, you have to demonstrate trust. This means sharing information (often more than seems necessary) so that your people have the context and confidence necessary to evaluate for truth when false information enters the marketplace. If you wait to engage your employees until you're under a barrage of falsehoods, the credibility of your response will inevitably come into question.While obviously there are many challenges that lie in the year ahead, I am thrilled about the opportunity that awaits us. In so many ways, for all of its mayhem and turbulence, 2018 was a fabulous year filled with accomplishment. We are fortunate to be living in a time that has the power to shape decades—if not centuries—to come.To help you navigate through the disruptive forces of today and anticipate those of tomorrow, download our
Three Things that Change Everything™ eBook
.
/ Dec 20, 2018
To accelerate business transformation in 2019, put employees first
Previous Post
/ Feb 07, 2019
Are you ready to activate an employee value proposition?
Next Post