CHICAGO, IL (December 7, 2015) - PR News has named Gagen MacDonald consultantKristal Sauer a winner of the 2015 PR News' Rising PR Stars 30 & Under awards. This annual competition showcases top talent, the passionate professionals and budding PR leaders under 30 who day in and day out are making communications matter in the marketplace. Nominees are judged by a blue-chip panel of corporate, agency, nonprofit and academic executives, as well as by the staff of PR News.
"From the moment Kristal joined our team, she has embraced our mission wholeheartedly and humbly, realizing a string of extraordinary successes for her clients while demonstrating a maturity of vision and skill beyond her years," says Hillary Goodman, Team Lead and Senior Communication and Change Consultant at Gagen. "Kristal is on a roll with no signs of stopping. We can't think of a more impressive young communications leader who combines both a tangible track record of positive results with extraordinary potential to achieve even more in the future."
Most recently, Sauer has supported a $2 billion global diversified manufacturer of engineering and technical solutions to launch a global, multi-year HR transformation that enables the company's business strategy for growth and strengthens its performance culture. She continues to provide the business strategic internal communications counsel as they engage a diverse employee audience and ignite their high-performance culture.
Based on her outstanding client work with Gagen MacDonald, Sauer has presented at the 2014 Communications Leadership Exchange Conference and 2013 PRSA International Conference in Philadelphia.
"F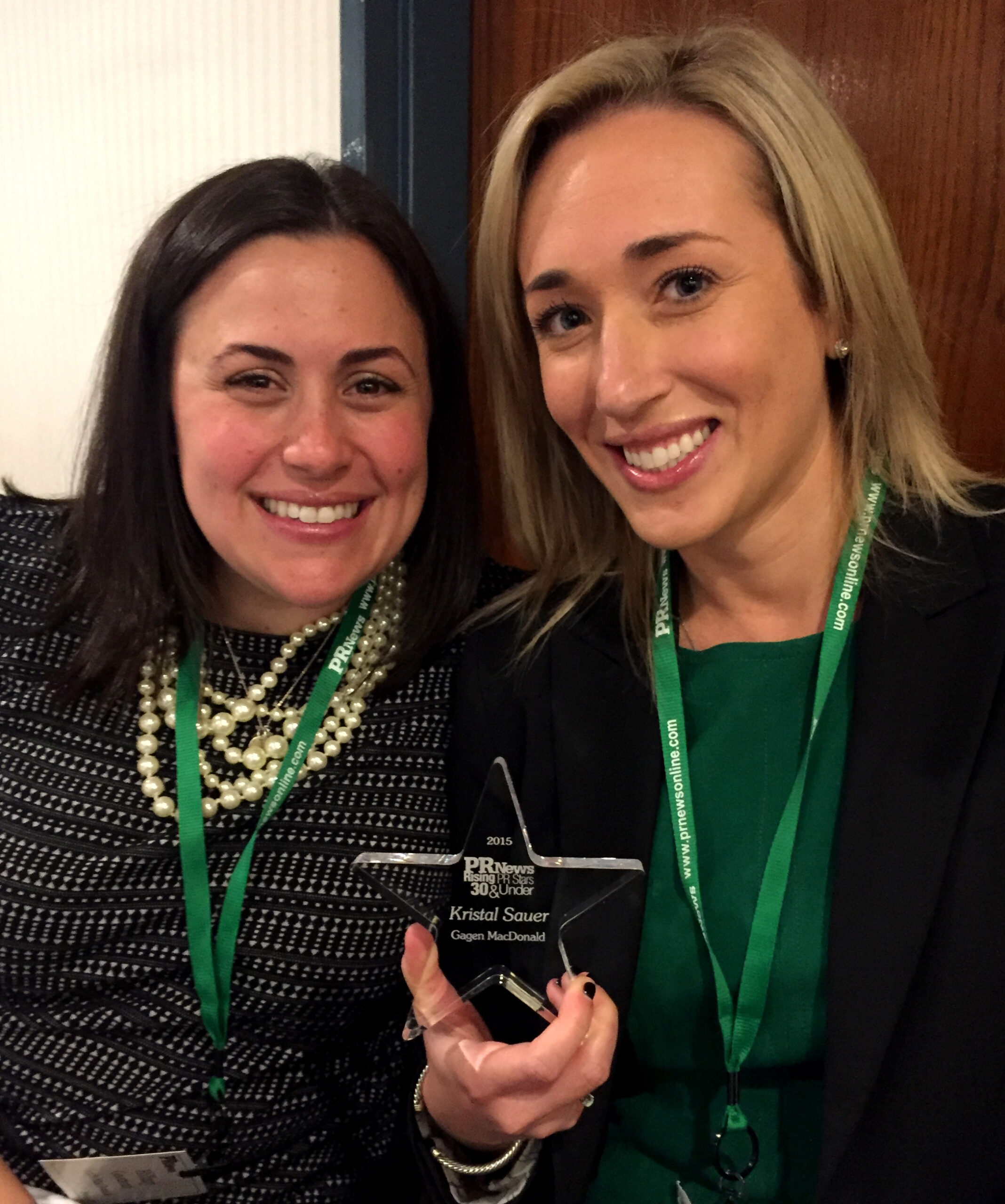 rom her work at ITT, which helped Gagen to win a Global SABRE Award in 2013, to her phenomenal support with Janssen Oncology's iWork platform, Kristal has impressed us with her ability to develop close relationships with the clients and her deep understanding of client needs," says Goodman. "We've been thrilled with Kristal's energy, attitude, and tireless dedication to world-class customer service."
Kristal Sauer recieved her Rising PR Stars award at a PR News luncheon in Washington, D.C., in December.
/ Nov 10, 2015
6 Ways People Resist Your Message – And How to Win Them Over (Part 2)
Previous Post
/ Dec 17, 2015
Four Workplace Trends that will Impact the Way We Communicate in 2016
Next Post