A brief timeline of our company name and logo mark. Beginning in our founding year, 1998...
1998
The company Matha MacDonald was founded by Maril MacDonald and Bob Matha.

2004
Maril purchased the company from Bob in 2004 and re-named it Gagen MacDonald. Her maiden name, also symbolizing the Silent Partner, became a core part of our brand name. The Silent Partner is a poem that hung in her father's office for many years.

2014
In 2010, The firm acquired Son & Sons - a creative brand agency based in Atlanta, GA. In 2014, we hired the agency to revamp our brand from top to bottom. They also partnered with us on client engagements to execute some of the internal campaigns we reference today in our legacy case studies.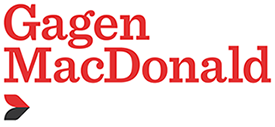 2019
A major brand refresh was underway to modernize the firm's brand look and feel and also tap more closely into the concepts of nature, animals, and their communities as well as the metaphorical link to human behaviors and transformation. The logo was streamlined as a part of this work.

2022
Another brand refresh aimed to recapture the energy of what it's like to partner with us, and to work as a team member at Gagen. Going back to a brighter and richer version of our Gagen scarlet red.

2023
In the spring of 2023, Gagen announced its acquisition by APCO Worldwide—a global advisory and advocacy firm focused on helping clients manage transformative shifts brought on by geopolitical, business and societal forces. We share many like-minded values and culture attributes, not to mention, the integration is bringing deeper insights and expertise to help more organizations achieve their vision, provide an end-to-end approach to accelerate positive change and transformation.