Productive, engaging, enjoyable work. Is that too much to ask for? A 2017 Deloitte report reveals 80 percent of executives rate employee experience as very important or important. Yet just 22 percent of companies feel they've successfully created a differentiated employee experience. With U.S. productivity rates declining and costs of hiring and talent retention increasing, it's crucial for companies—and leaders in particular—to embrace the concept of employee experience. This post outlines ways IT leaders can lead in shaping a better employee experience in 2018.
IT "The Workplace Influencer"
Jacob Morgan, author of The Employee Experience Advantage,writes that employee experience "involves a complete redesign of the organization that puts employees at the center. Instead of trying to force people to fit into outdated workplace practices, organizations must redesign their workplace practices to fit with their people." Technology sits at the heart of workplace practices—it comprises the main tools employees use to do their jobs.
Success depends not only on having the right work tools, but also having those tools in various locations. Today's digital workforce moves between office, the field, production facilities, and home. Employers must enable employees to work wherever they are. With more and more companies embracing workplace flexibility, IT will increasingly need to rely on cloud-based solutions, mobile work tools, and better data access to keep employees at the center of work, regardless of location.
IT "The Fast-Paced Innovator"
Technology is constantly evolving, putting IT leaders at the forefront of change. Often narrowly charged with driving productivity, IT leaders are really innovators. They influence how companies function by the tools they introduce, and how and where employees use those tools. These factors, in turn, influence employees' experience, their productivity, and the bottom line.
IT leaders can drive innovation in a fast-evolving landscape by embracing technologies that uplevel the employee experience. Cloud-based collaboration tools can help break down silos and accelerate cross-departmental teamwork. A dynamic intranet—customized to an employee's function, and featuring curated thought leadership and crowd-sourced stories from the front lines—can help employees connect the dots between company strategy and their individual role.
IT leaders are also implementing internal communications tactics to ensure an optimal employee experience strategy gets fully executed. Such tactics can include creating the business case and gaining alignment from leaders on the need for certain products to improve employee experience; conducting focus groups to test-drive products before implementing them across the company; and developing employee ambassadors who advocate for the change once products are implemented and gauge employee opinion. These tactics drive employee adoption of new tools while also helping IT iterate improvements in a continuous feedback loop.
IT "The Risk Reducer"
Unfortunately, 2017 was a year of massive security breaches—and 2018 will likely continue the trend. As always, IT leaders must focus on keeping enterprise security ahead of emerging threats. At the same time, they are increasingly aware that the biggest security threat is non-compliance by employees. More effectively engaging employees to reduce enterprise risk is perhaps the crucial security move IT leaders can make in 2018.
How easy or difficult is it at your organization to report suspicious activity, malevolent spam, or security breaches? How can you foster better partnership around security between IT and front-line employees? (Our post Enterprise Risk Stewardship: Engaging Employees to Manage Risk explains more.)
IT "The Business Transformation Lead"
IT deals with change constantly, yet it's important to bring the rest of the business along with it. In 2018 and beyond, IT leaders will increasingly be tasked with driving understanding and adoption of business transformation throughout an organization. Change management teams can prove invaluable in this effort.
At Gagen MacDonald we believe IT leaders can shape employee experience—influencing beliefs and thus driving necessary culture change—by targeting the four high-impact culture levers outlined below.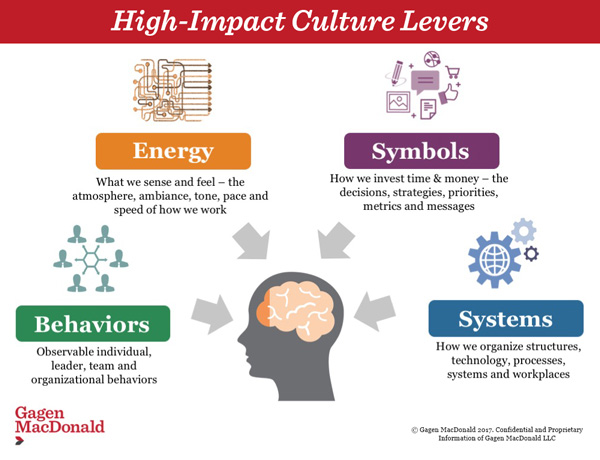 Whether it's gaining alignment of key stakeholders, developing a strategic story and integrated plan to introduce a new product, or training IT managers to champion the change, IT leaders are uniquely positioned to impact all four levers.
---
We believe 2018 will see IT becoming a more cognizant driver of culture and employee experience. Rather than seeing employee experience as something intangible and worlds apart from IT, businesses will recognize that IT creates experiences every day for every employee—for better or worse. Whether it's enabling a flexible work environment, providing mobile access to company systems, communicating business transformation, or empowering employees to be good cyber-security stewards, IT is a prime mover of employee experience. And that experience impacts every aspect of an organization's productivity, culture, and, yes, even the bottom line. How will you influence employee experience in 2018?
/ Feb 14, 2018
Purpose: Sparking the Love & Fueling the Business
Next Post